More than a half of the planet consumes insects, it's called entomophagy. It's a very common nutrient in many Asian countries as China, Japan and Thailand. Edible insects nutritional value: they are very rich in protein and vitamins D, they contain less fat than a chopped steak and are very good for cholesterol. They can easily replace meat and fish.
From an environmental point of view, the breeding of insects, unlike cattles, does not require a large area of operation. A few square meters are enough. However, you should always prefer insects from a natural and healthy environment.
Even if there were dealers of edible insects in the U.S. markets in the past, our gastronomic culture is not adapted to these living resources, even if edible insects nutritional value are not negligible and the that our traditions led us to consume snails, oysters or frog legs which are sometimes seen in other lands as disgusting food.
So, we have an apprehension and a perception to change to be able to integrate the insects in our current consumption. The most astonishing thing it is that insects are really delicious on the gastronomic map. We can prepare them using traditional or modern recipes. They are eaten both salty and sweet.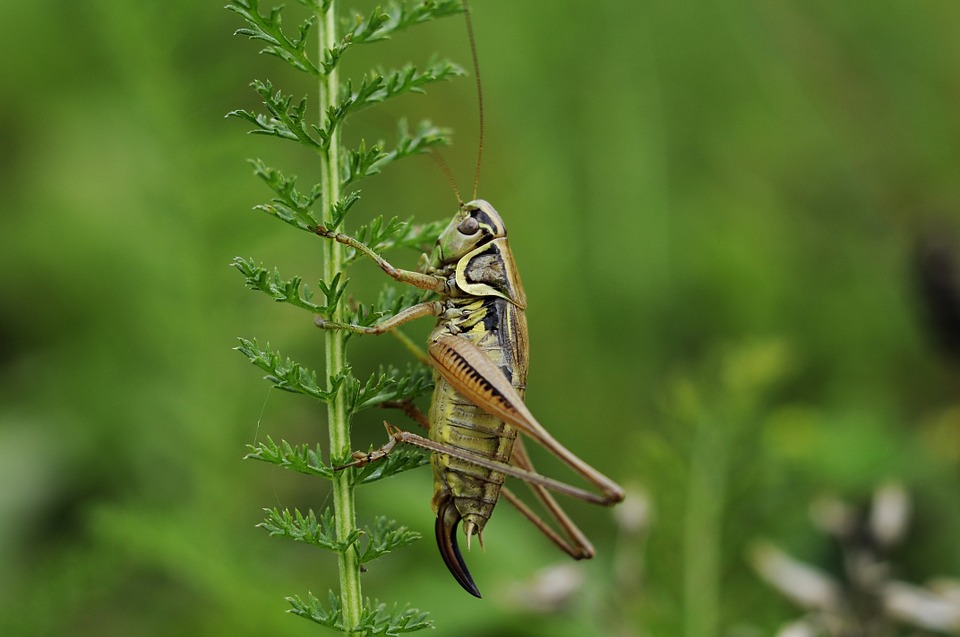 Some examples of dishes whose recipes can work up an appetite:
Crickets paella
Grasshopper stew
The maggot lollipops
Insect chocolate
Fried caterpillars
Quiche to the beetle.
Caution: as with all good things, do not abuse it, especially the first few times because our stomach is not prepared as it's not used to that type of food.
How to set a crickets breed?
To make your vivarium, you can use an old refrigerator as a passenger compartment and replace the door with a glass window, a plexiglas or clear plastic on the 4/5th of the opening. On the 1/5th remaining, make a wooden frame with a very fine mesh for aeration. This vent will serve as the access door.
Place these inside:
Shelter type boxes of eggs.
Two small containers filled with moist soil for spawning with a minimum height of 5 cm.
A cup with cotton for the water
A tray of food.
Food: fruits, salads, what there is in your garden and they could enjoy
For information:
Incubation of the eggs takes about 10 days and it takes 1-3 months to become an adult cricket.
In an ideal world and to ensure the reproduction, the females needs a temperature of 30 °. It will lay nearly 1,000 eggs in 4 or 5 sessions.
Crickets are primarily  diurnal species, but males sing much at night. It's a characteristic to take into account for the implementation of your terrarium depending on your taste for their sound activity.
Catch your first crickets in nature with a butterfly net, then after you have placed the outcome of your hunt in the vivarium, let the time do the work by placing some remains of your meals accompanied by plant materials collected here and there.
Bread, cookies, cakes, fruits and various vegetables are all good choices to help you discover the edible insects nutritional value.
Place one of the nests in the vivarium. Remember to keep the nests wet using a water spray in order avoid the drying of the eggs. Count a couple of weeks to record the first bosses.
If you want to speed up the production, you have to take (at least every two days) the contents of the nest and place it in a two-liter jar which you will close with a lid. Then, place the jars in the darkness at 30 °. You must find a balance between temperature and darkness to prevent the condensation of water on the walls and the mold growth.
After ten days, the pups will begin to appear, it should be kept in the same conditions as the eggs for a few days, but this time with a fine wire mesh cover, keep feeding them. A few crumpled paper can be inserted to ensure their daily exercises before you place them in the vivarium.
Congratulation, now you can start using them in the following recipes and profit plenty from their unique taste and meet the true edible insects nutritional value.
For samples:
Find a container "trap" with a small opening, put in the background their most appreciated food  in order to attract them, or simply put a butterfly net collector.
.
-Some simple and economical recipes suggested by Bruno Comby in his book "Delicious insects"
Edible insects nutritional value and recipes:
Edible insects nutritional value are far beyond what we know, they are rich in protein, low in fat and have good impact on our overall health.
Here is a list of recipes made of insects mixed with our preferred meals:
Country appetizer
Put the crickets in a dish in the oven. Grill over medium heat for 10 minutes. The crickets cook very quickly. Due to their small size, the heat manages its way very quickly in their tiny body.
Remove them from the oven, put some salt and let them cool. Serve them as an appetizer like peanuts or chips. It's possible to refine the sprinkling taste, for that, use aromatic herbs such as thyme or cinnamon before cooking.
CRI-CRI salad
Brillat Savarin, famous chef, wrote in 1825 that the salad "refreshes without weakening, invigorates without irritating and rejuvenates us." Knowing the edible insects nutritional value, you should definitely try the insects salad!
Prepare a salad with raw vegetables using lettuce, tomatoes, peppers, grated carrots and various vegetables. As a decoration at the top of the crudities, put your crickets or some salted roasted insects shown above or poached (see below). That way you create, as it often done with some walnuts, a decorative effect and an original taste effect to enhance your salads.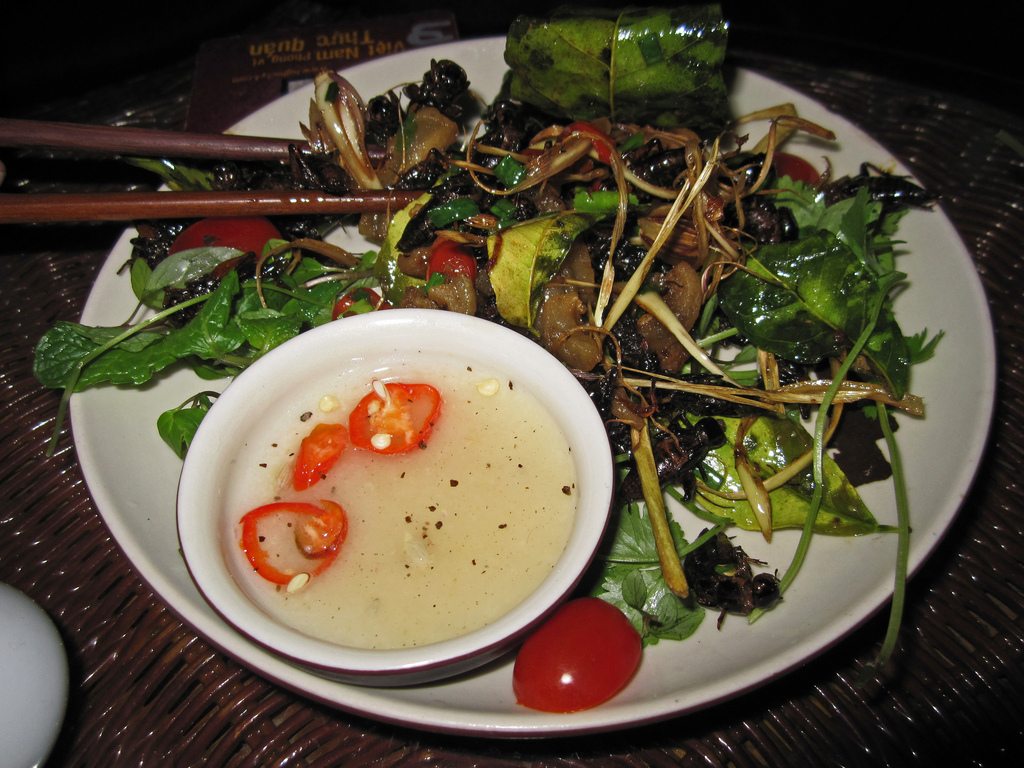 Grasshopper stew
In a stew, replace the meat by grasshoppers or crickets. Similarly, you can add, while you are cooking a family ratatouille, some crickets or grasshoppers.
Insects are small and quickly cooked, therefore it's better to add them during your cooking.
Springy pancakes
Integrate fine chopped crickets in your dough to the pancakes. Blow up your usual pancakes and serve them hot and dirty. It's possible to serve the springy pancakes rolled after laying on a bit of béchamel sauce.
Variant: do not roll the crepe, but only fold it in two or four, and have on the top the roasted crickets, salted and prepared as above.
Crispy waffles
Prepare the waffle dough, not omitting to integrate into the paste a bunch of fine chopped insects. You can add an egg to the frying pan (served as a main course on the waffle) and/or a fine herb sauce all watered from a choice of white or red wine.
Crispy waffles can be served as a dessert in a sweet version and not salted, clothed in this case with an insect  caramel or a pastry cream or simply sprinkled sugar ice.
Fried crickets
Roll the crickets in the flour, fry them a few minutes in boiling oil as you would do with the french fries. Serve it directly or as an aperitif or a starter.
A variation is to consume these sweet fritters or caramelized for dessert or for your collation.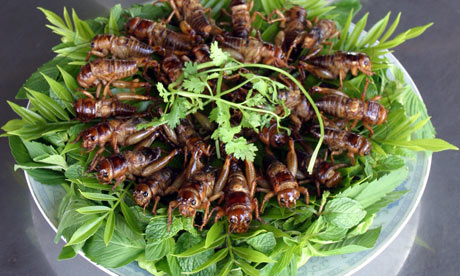 Fried caterpillars and larvae
Fry the larvae or caterpillars in boiling oil. It's possible to roll them in the flour beforehand to make cakes. Season them with salt and serve them hot with a nice white wine.
Some primitive tribes in Papua who regularly consume large larvae make them, thus fried or grilled in a piece of wood in the form of skewers.
Sun-dried crickets
Pick up crickets and, after having killed them, dry them by spreading them in the sun on a grid. If you live in an apartment or when the time is covered, it's possible to dry the crickets in the oven with a very low temperature or using a blow dryer. Dried crickets can, like dried mushrooms, keep long enough in a dry atmosphere.
You can consume them as it is or salted, making them back a little to the stove at the time to eat, or include them in various recipes.
The insects drying is often used in primitive tribes as a mean to conserve them, these guys knew what edible insects nutritional value is.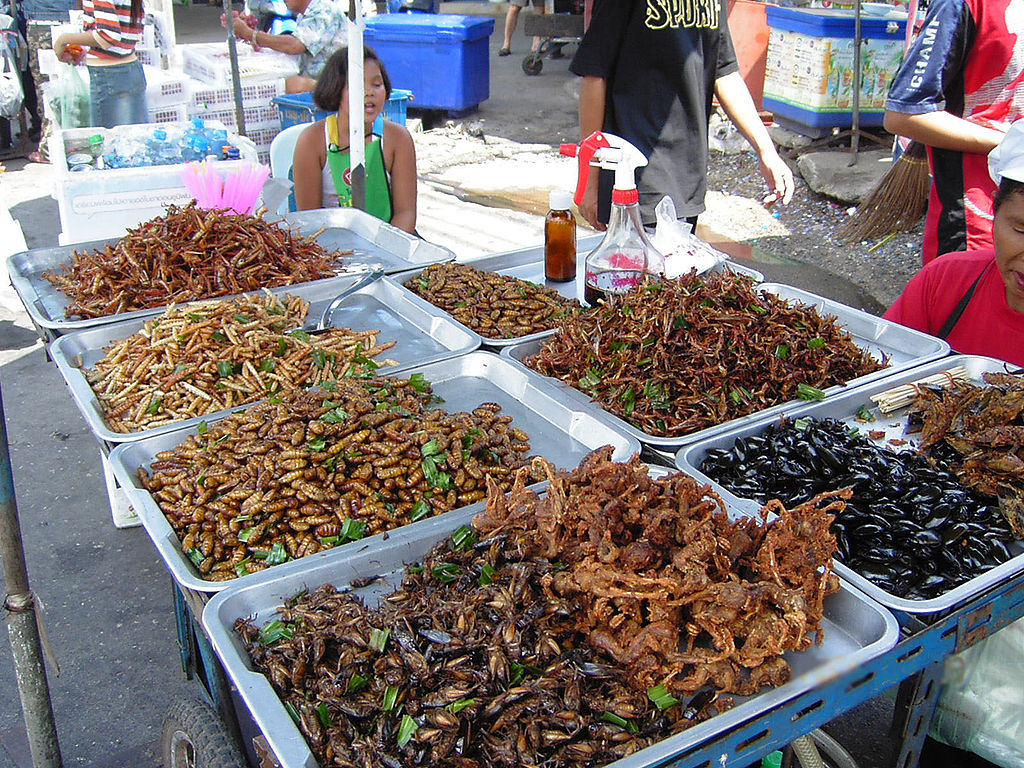 Patties of caramel crickets prepared in the Mexican way
You will need 10 crickets and 100 grams of pollenta reasonably per guest. Toss the crickets  a few minutes in a pan with some butter or oil. Prepare or buy a reasonable mini-galettes (corn meal – plan a small pancake per person). Have the crickets on the wafer.
Prepare the caramel by melting a mixture of sugar and water in a saucepan. Drizzle the warm caramel crickets by slowly pouring the caramel based on every cricket, without too much delay to avoid the caramel to harden. Decorate it with some slices of kiwi, raspberries and creme (or cream Chantilly, custard or ice vanilla).
Store in the refrigerator then serve chilled with champagne.
Boiled insects and insects ratatouille
Boil the insects with a bit of water (not too much) in a saucepan or in a pressure cooker. Simmer until it's as consistent as mashed potatoes then serve as a main dish, salty, for example, with green beans or a salad of raw vegetables. 
Many people who consume insects, thus simmer them in a little water until they get a bunch of insects that they only need to spice up.
For the insects ratatouille, do the same by adding the ingredients of a traditional ratatouille: tomato, onion, Zucchini, eggplant and aromatized herbs. It can be consumed as the main meal,or somewhat more intensely peppered and seasoned like a sauce accompanying another dish.
Nature-crickets
This is the simplest recipe imaginable to prepare. It is indeed possible to eat many species of nature, such as insects, living or raw, dirty or not, possibly with a zest of lemon, a few drops of dressing or a little mayonnaise sauce, as you eat oysters or shrimp as an appetizer. Some great gourmets and experts prefer them as nature, it is in any case the case for me!
Flour of insects
The insects will be dried first (see recipe above) then ground using a flour mill, or with a mixer. Insects flour keeps very well in a dry area (to protect from moisture) and can be served as a basic element for many recipes.
Insects flour was notably used in North Africa in the areas invaded by locusts, to keep large quantities of these harvested during an invasion of these delicious birds until their consumption.
Poached insects
Bring a pot of well salted boiling water, poach the insects by pouring them into the simmering water. Let the water boil for about 5 minutes then gently, take out the small creatures of the water with a sieve.
Serve cold in a salad with a vinaigrette, or present them on a bed of lettuce leaves with some seasoning like a mayonnaise (if you have an adventurous spirit, you can even test other formulas of seasoning to your taste) accompanied by a white wine, for example a good Gewurtztraminer.
Now that you know the edible insects nutritional value and a set of tasty recipes to prepare them, don't hesitate to go out of your comfort zone and try this new way of eating. For more information about what you can eat, take a look here.